54 2E av
, Lasalle QC
(514) 767-1215

7640 boul Newman
, Lasalle QC
Consultation a domicile gratuit, appeler-nous des maintenant 514 363 2056. Verti Store est fabricant de produits d'habillage de fenêtre depuis plus de 25 ans. Nous offrons un service d'achat à dom...
Check out our website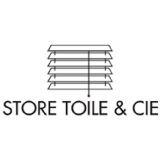 When it comes to selecting trendy window covers in Montreal and Quebec, rely on Francis Halle, a young entrepreneur specializing in window decor. Contact his dedicated team at Store Toile & Cie.
Check out our website